Post by mrconklin on Feb 8, 2020 14:26:57 GMT -6
Short review of the Fine Stout Shaving Brush
fineaccoutrements.com/stout-shaving-brush/#product-additional-info
This brush is inspired by, or a blatant knockoff of the Simpson Chubby synthetic brush. I am not a big synthetic fan compared to how I feel about natural brushes. I generally think most synthetics have gone the way of soft, softer and softest with all three being too soft. A lot of what many consider a good synthetic I would consider a makeup brush and not in any way suitable for shaving. Especially with the higher lofts, and density lacking knots. When I say soft, I don't mean the feel of the brushes as much as I mean they have no backbone.
The Fine Stout Synthetic at 24x50 is my idea of what a synthetic could be. It's packed tightly enough and has a short enough loft that the density, rather than the stiffness of the fibers provide the backbone. This keeps it from being a springy lather slingshot. It has a big glue bump. Many would hate that, I love it, it makes it act like an even shorter loft than it is. I am not a masher so I never come close to feeling the glue bump on my face.
Here are the three synthetics I own.
Left to right Muhle Silver Tip Fibre, Jayaruh 210 Synthetic, Fine Stout Synthetic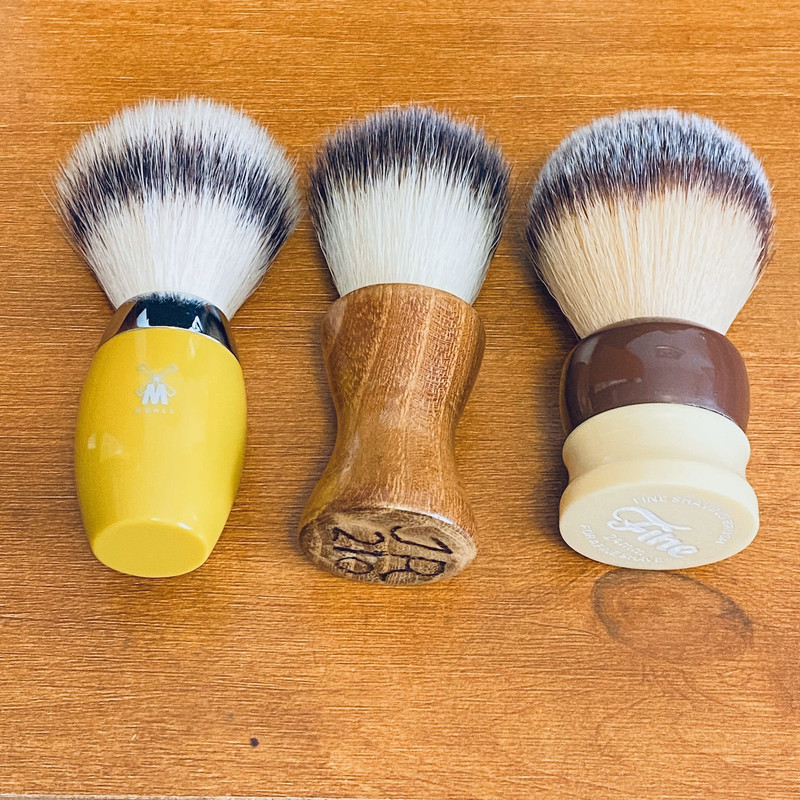 Left to right Muhle Silver Tip Fibre, Jayaruh 210 Synthetic, Fine Stout Synthetic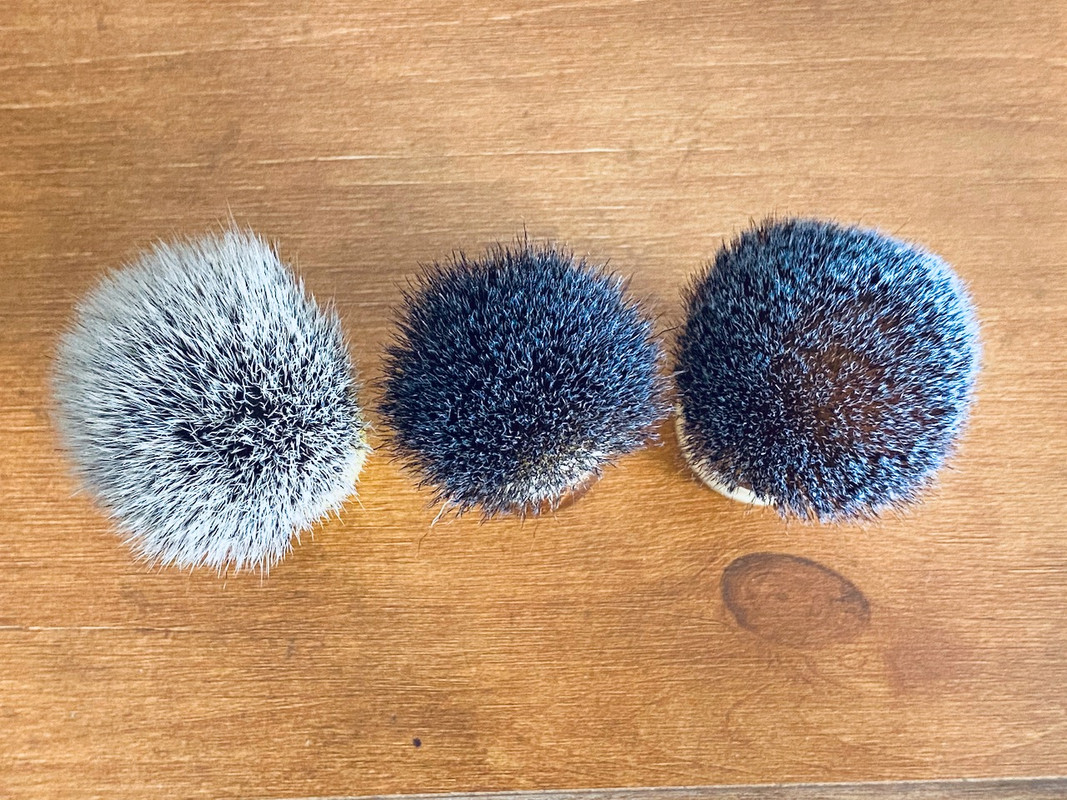 Up until I got the Fine, I preferred the Jayaruh to the Muhle. The Muhle's fibers are something special, but for me, are not packed nearly dense enough. Everyone tends to think the Muhle fiber's are cutting edge and some of the best, most realistic. On a fiber per fiber basis they may be, but just as important as the fiber is how you put the brush together. You can take great fiber and hamstring it by using too much loft, or not enough density in the knot and that to me is what Muhle have done. If they put literally twice as many fibers in this knot and had the loft 10mm shorter Muhle would likely have made the perfect synthetic for me. As it was I preferred the Jayaruh 210 with it's Ace knot over the Muhle. Granted the Muhle Fiber is nicer, but it's how the knot is put together that counts and the Ace is better for me.
As to what I think about how synthetic knots should be made. If I were King, I'd put out a decree that one could not make a synthetic brush wherein the loft was allowed to exceed the diameter of the knot by more than a factor of about 2 and no loft regardless ever over 55mm. With todays fiber's that is the rough dimensions of a brush that works for me. I know there are lots of folks that love things like 28mm x >60 but to me those are paint brushes. Synthetic knots NEED their backbone to be provided by the density of the knot, not the resistance to bending of the fiber. Other wise the knot becomes a sling shot. This is not the case with natural fibers. Many roads to Rome with natural fibers, but for synthetics, give me backbone via density.
This is a $30 brush, worth the money - definitely for me, yes. There are some that are hard pressed to spend more than $10 or $15 on a synthetic brush. There are lots of brushes available in that price range - if you like what is available in that range. I'm not aware of any that are this density and this short loft in that price range. $30 is a lot nicer than the $90 the Simpson Chubby synthetic would run. This does also have a nice heavy resin handle. My only complaint is I ordered mine in Crimson and Cream and expected a crimson color, instead it should be advertised as medium brown and cream because that is what it is. I kind of like the brown, but I would have preferred a dark crimson/maroon
After having this brush from Fine, I am pretty sure that someday I will spring for the Simpsons Chubby Synth. I'm told that it's similar to the Muhle fiber but denser and much shorter in loft. Sounds about perfect.
If anyone is interested in the Muhle, let me know. I'm willing to let it go for under 1/2 price.